Singer, Vocal coach, M.A. Birgitta Johansson
Balance in Phonation (BiP) Voice Training Certified Master Teacher
- Find all dimensions of your voice!
- Find the way to sing healthy and naturally!
- Classical and pop/rock.
Problems with the high notes? Does your voice get tired while singing? Problems with belting :)?

Do you want to strengthen your voice, but still sing effortlessly and naturally?

Are you a professional, but feeling that all the capacity of your voice is not yet in use?

Would you like to continue singing after your singing lessons for your degree are over? Possibly you would like to do more exams in the future?

Do you sing in a choir wanting to have some more technique to make it easier?

Do you need help preparing for entrance examinations?

Are you entering a singing contest, but can't decide which songs would bring out the best qualities of your voice?


Come and visit me at my studio, and let's see if we could start working towards your goals together! You can also come casually, or just once to get some advice and ideas important to you right now.

By request a possibility to experiment the VoceVista -vocal analyzer.
A FEW WORDS ABOUT ME AND MY TEACHING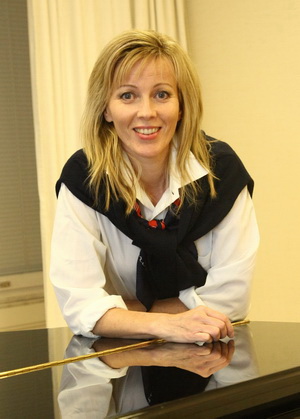 I have a Master of Arts -degree from Sibelius Academy, in which I included two major subjects - voice and piano.
As minor subjects I completed flute (teached by Tapio Jalas) and guitar (teached by Kari Äikäs). My master's thesis in Sibelius Academy was about vocal problems of music teachers in Finland.
My other accomplishments in Sibelius Academy include studies of Voice pedagogy B, and studies in the opera class as an additional student, performing first in the choir roles of the operas Falstaff, Gianni Schicchi and Soeur Angelica, and later in the productions of Le nozze di Figaro (Susanna) and Carmen (Frasquita). In the operetta Die Fledermaus by Johann Strauss I have sung the role of Adele in the production of the Kirkkonummi orchestra. With the Savonlinna Opera Festival Choir I have performed in the operas Tannhäuser, Pajazzo, Cavalleria Rusticana, La Forza del Destino and Faust. I also have some competition experience from singing in the finals of the Kangasniemi song contest. Nowadays I also perform with Kirkkonummi Opera Association on various occasions.
| | |
| --- | --- |
| Pop-/jazz -songs were a part of my repertoire already as a young teenager. When I was 15, I bought myself a guitar, which worked as an accompaniment while singing both alone and together with friends, performing on all kinds of occasions. After high school we started a girl band, which did some memorable gigs! Memorable is also "Mosse" - the car of our "roadie-manager" Matti Ruippo. Mosse often needed some pushing by the band when driving uphill ;). | |

I have been working as a vocal coach since 1999, teaching both classical and pop/jazz singing. Currently my students represent both styles quite evenly.
I have also worked as a vocal coach of different choirs. In the exam jury of Espoo Music Institute I have been evaluating exams of both classical and pop/jazz singers. This has been a really nice return to my "roots", since I have been studying in the Espoo Music Institute myself :).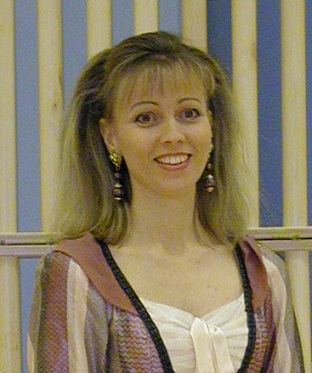 Lisätietoja
- E-mail


Birgitta Johansson,
MuM, BiP Certified Master Teacher


www.sonorian.fi/laulu.htm

LINKKEJÄ:
Balance in Phonation (BiP) Voice Training

Ritva Eerola
Aija Puurtisen tohtorintutkinto
Ritva Eerolan Ääntöbalanssi-metodi (Hannele Valtasaaren pro gradu)
Roger Fiammetti: Respiration totale animation (video)
- Sisäänhengityslihasten toiminta (ks. erityisesti 1:50-2:11)

Juliane Gabriel: Introduction to the Human Instrument
- Lue täältä mm. lantionpohjan lihasten (= lantiopallea, pelvic diaphragm) merkityksestä vahvaan ja energiseen äänenkäyttöön!
Alexander Technique for Musicians - Born to Sing (Ron Murdock)
Hyvän lauluasennon saavuttaminen (ks. kuvat s. 7-10)
Video äänihuulten toiminnasta (Theo Bleckmann)
Anne-Marie Speed - The Voice Explained
A Right to Sing (Joseph Shore)
Gioacchino Li Vigni: Stop putting air where you think the voice should go
Explaining Lamperti's "La lotta vocale" (Joseph Shore)
Jeannette LoVetri - The Voice Workshop
Seth Riggs FAQ (Speech Level Singing)
Seth Riggs -opetusvideo (Speech Level Singing)
Striving for balance in teaching singing (David L. Jones)
VoceVista - äänianalyysi
VoiceWell - Kirsi Vaalio (kokonaisvaltainen äänielimistön hoito: hengityslihakset, kurkunpää, leuat, purenta)
Chordie.com - pop/jazzlaulujen sanat, soinnut + transponointi
Tabinetti - suomalaisten pop/rocklaulujen sanoja ja sointuja
Chordify - YouTube ym. videoiden soinnutus
Songstube.net - pop/jazz: sanat + audio
Ultimate-guitar.com - pop/jazzlaulujen sanat, soinnut + transponointi
Classical Archives - kuuntele/lataa koneelle klassisia lauluja
IMSLP.org - nuotteja (klass.)
Karaoke-taustoja Impresario.ch (klass.)
Karaoke-taustoja (Red Karaoke) (ooppera, musikaalit ym.)
Karaoke-taustoja (Karaoke-versio.fi) (pop-jazz)
Laura - Laulujen suomennostietokanta (klass.)
MusicMe - Kuuntele musiikkia (myös suomalaisia)
Nuotteja Free-scores.com
Nuotteja Musicnotes.com - lataa koneelle pop/jazzlaulujen sanat, nuotit, soinnut + transponointi
Naxos Video Library Ooppera- ym. videoita (kirjaudu kirjastokortin numerolla)
Opera libretti (Naxos)
Opera synopses (Naxos)
Recmusic.org - Laulutekstien käännöksiä eri kielille (klass.)
Slang City - Slangienglannin selityksiä
Virtuaalipiano Virtuaalipiano 2 Virtuaalipiano 3 (myös sointuja) Virtuaalikeyboard
Nuottipaperia eri versioina (biisien tekoa varten)
Keskustelupalstoja: